Get the Look: Boho (Interior Design) Styling
Boho interior design is a popular and timeless style that continues to evolve and offer a free-spirited and eclectic approach to home decor. In 2023, the Boho trend is expected to continue its popularity with a focus on different types of Boho, each with its unique style and elements. Here are the top four types of Boho interior design to consider for your home:
Moroccan Boho: Moroccan Boho is inspired by the rich and vibrant culture of Morocco. This style features exotic textiles, intricate patterns, and vibrant colours. Elements such as woven rugs, ornate lighting fixtures, and woven baskets bring a sense of the exotic to the space.
European Bohemia: European Bohemia is inspired by the bohemian culture of Europe and features a mix of vintage and modern elements. This style often incorporates a mix of vintage textiles, such as lace, velvet, and fringe, as well as eclectic furnishings, such as restored and repurposed furniture.
Western Boho: Western Boho is inspired by the laid-back, relaxed lifestyle of the American West. This style features natural materials such as wood and leather, as well as earthy colours and patterns. Western Boho is often characterised by a rustic and laid-back feel, making it a perfect choice for a cosy and comfortable living space.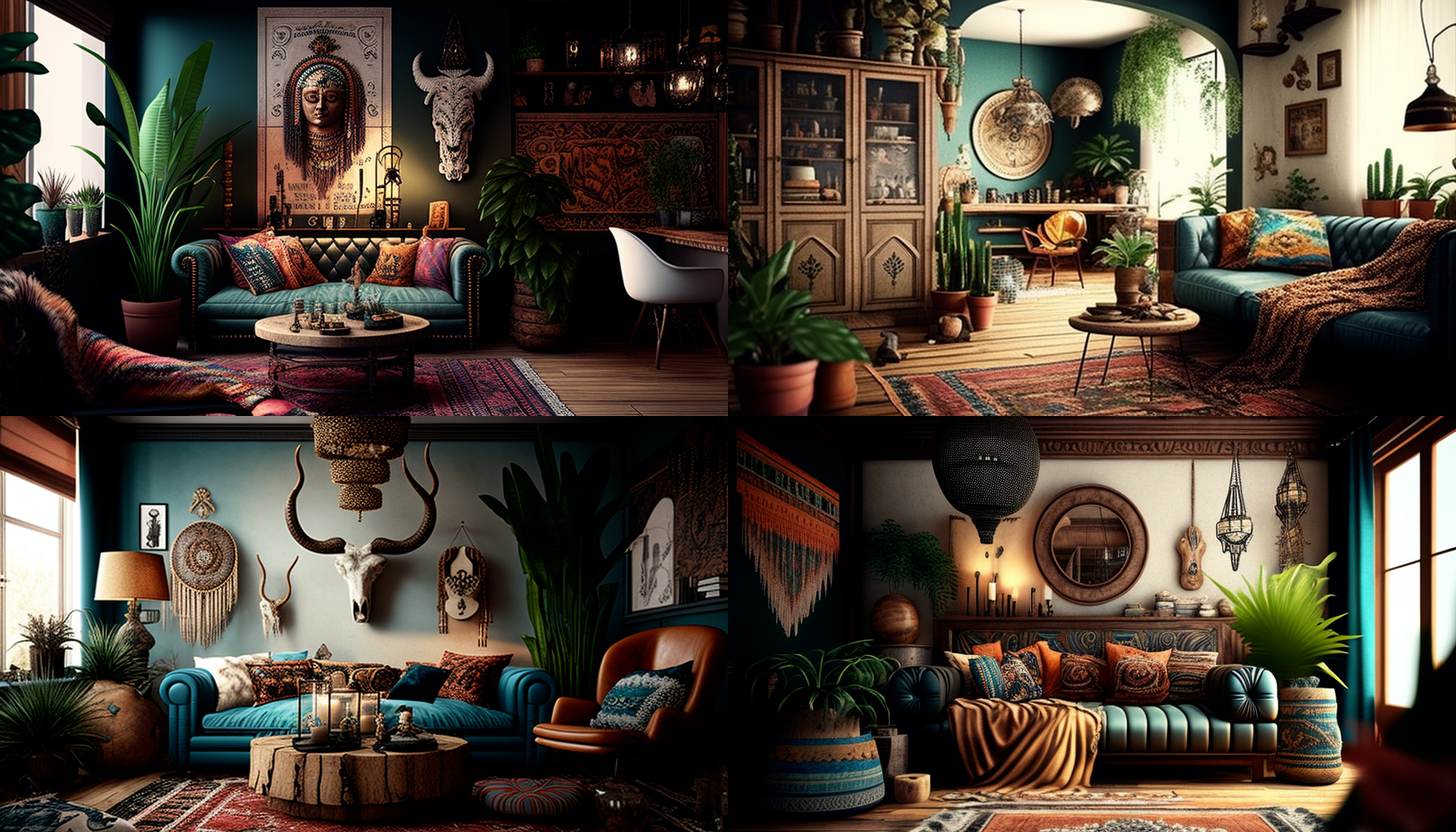 Modern Boho-Chic: Modern Boho-Chic is a contemporary take on the traditional Boho style. This style features clean lines, neutral colours, and a mix of modern and eclectic elements. This style is often seen as a more sophisticated and refined version of traditional Boho and is perfect for those who want to incorporate Boho elements into a modern and contemporary living space.
Regardless of which type of Boho interior design you choose, the key elements that remain consistent include the use of bold colours, eclectic textures, natural materials, global-inspired elements, unique accessories, layered lighting, and natural greenery. By incorporating these elements into your home, you can create a space that is both beautiful and reflective of your free-spirited and eclectic personality.