Why Choose Us
With a strong track record of steady growth and success, PaintRight is passionate about the prosperity and competitiveness of paint, decorating and DIY in Australia. As a store operator you will become part of the PaintRight family- we want to help make your business boom! We continue to grow and give our stores the tools to tap into the ever-growing trade and retail markets. By using our collective strength, stores can benefit from discounted buy prices compared with those that independent business operators would normally expect to pay.
Operations
When you are busy operating a business, it's hard to keep up with the latest trends, innovations and the technical information to stay ahead of the game. PaintRight provides operational guidance and support for store operators including best practice manuals, dedicated staff training programs and other industry tools to help your business run smoothly. You will have access to so many resources that you wouldn't receive as an independent business operator.
Support
Our National Support Team based in Melbourne is run by a small but passionate group of experts who care about the success of your business. We're on the ground and completely immersed in the industry. By closely monitoring the changing marketplace, our support team will always be there to help you thrive in a dynamic environment. We are here to deliver initiatives that support store growth and profitability.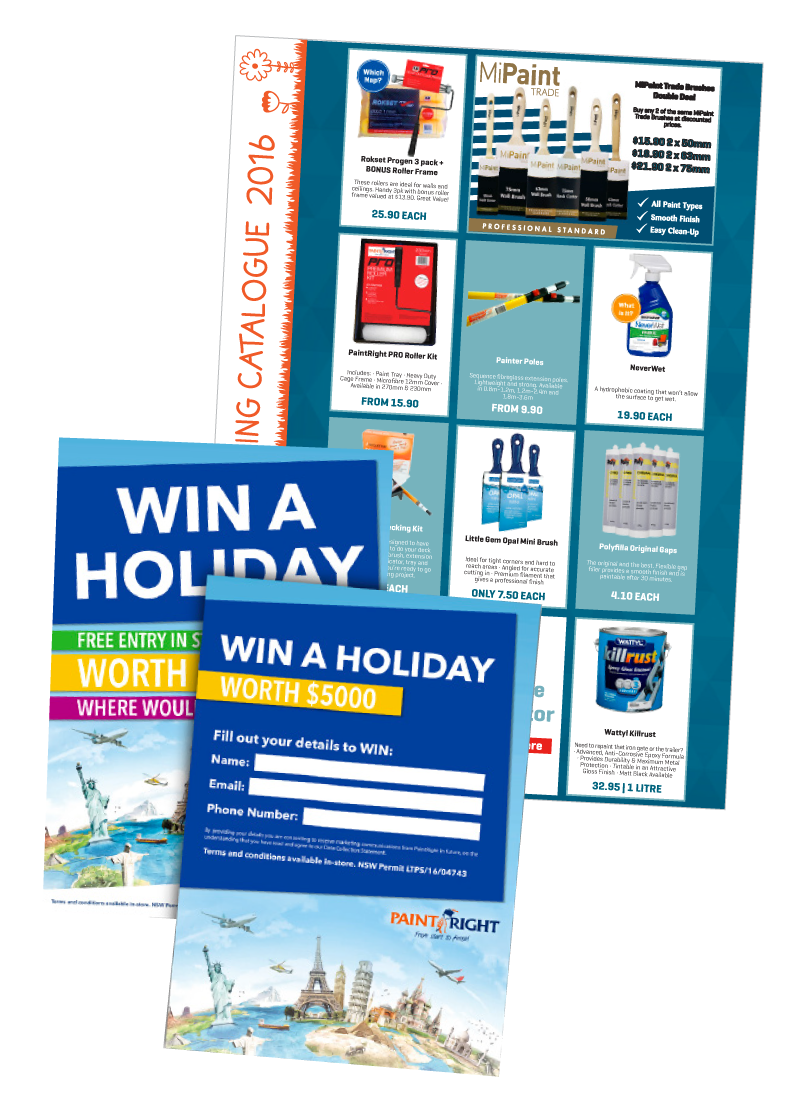 Marketing
Our innovative marketing programs are constantly evolving to adapt to our customer's changing behaviours and interests. We have proven marketing services that will help you take advantage of both the trade and retail markets, backed up with the solid Haymes Paint brand and strategies to drive customers to your door.
National Marketing
PaintRight's national Marketing Department and dedicated Marketing Agency is available to store operators for production assistance and strategic counselling for all marketing requirements. We use an integrated suite of traditional and digital strategies to promote the group and attract customers to your store.
This includes:
Scheduled tactical and awareness campaigns throughout the year
Promotional catalogues
In-store campaign materials (e.g. POS posters, shelf talkers, mobile hangers)
PaintRight TV (an innovative in-store multimedia platform)
National advertising (via a multi-channel strategy)
Social media activities (Facebook and YouTube)
Marketing to customer databases (managed by our head office)
Public Relations
We also give members access to optional initiatives including SMS campaigns, branded merchandise and EDMs (Electronic Direct Mail).
PaintRight TV
PaintRight TV is a living, breathing Point of Sale marketing tool exclusive to PaintRight stores. The in-store multimedia platform is loaded with rotating special offers, promotions, inspirational images, advice and how-to videos to help engage customers who come into your store. All you need is a TV and we'll sort the rest!
Local Area Marketing
Your store can also flex its own local area marketing efforts backed by our national campaigns to accelerate your success. Templated marketing kits are provided to help delivery of promotional activity and effectively position the store in the local community.
Our website www.paintright.com.au is constantly evolving and is a hub for all of our digital presence and online marketing activities including a social media hub. Individual stores have their details listed on the website, plus its very own dedicated sub-domain page which is tailored with your unique store offering, contact details and imagery. Your store's own sub-domain will improve your localised Search Engine Optimisation (SEO) and online presence.
IT Services
Choosing the right IT solution is one of the most important decisions you will make for your business. PaintRight stores have access to our fully integrated platform at a significantly subsidised rate.
Key features include:
Finance and accounting with an integrated general ledger, sales and purchase orders, invoice management, POS function and reconciliations
Debtor management, supply chain management and stock control
Inventory management can be done through head office (including pricing, stock, supplier and warehouse management
PaintRight data integration that allows easy import and update of master product data. Additional modules including payroll, service & CRM are also available.
Business Software & e-Commerce
The PaintRight website platform is fully hosted and supported by our IT department and is cost effective, easy to use and quick to set up. Product files and can be synchronised directly while also enabling dealers to add their own non-catalogue products if required.
Intranet
PaintRight's intranet is a portal for all of your essential PaintRight resources, keeping you up-to-date with the latest news, industry updates and upcoming initiatives that your store can take advantage of.
Subdomain
Each PaintRight store gets its very own subdomain, a localised extension of the PaintRight website that is fully tailored to your store and its unique offering. Not only do these subdomains give your store extra presence on Google and other search engines, it gives your customers improve your customer's online journey.
Corporate Website
In addition to individual subdomains, the PaintRight corporate website serves as a hub for all digital presence, online marketing activities and social media content. It's also the gateway for many customers wanting to track down their local store.